We Buy Antiques: How it Works
We buy full and partial estates, as well as individual antique pieces. We only buy antiques outright, we don't take items on consignment. The best approach is to email us photos of the items you want to sell. Please include your phone number, and any relevant information. If you require pickup and can't bring your items in for a quote, please state so in your email. We are willing to buy certain items if you can bring them in for a quote, but not all items we buy are valuable enough to warrant the time and expense for us to go to you for pickup. If you require pickup, please include the location of the items in your email. We cannot quote prices from photos. From photos we can tell you whether we are interested in your items or not. And we will let you know if you should bring your items in for a quote or if we are willing to come to you to have a look at your items. Appointments are not required, unless you are bringing in a large quantity of items. 
You can scroll down this page for lists of some of the items we buy and some items we don't buy. Please understand that we receive a large volume of emails. We do our best to respond in a timely manner. If you don't receive a response within a couple of days, please check your voicemail and your spam folder. Nearly every week we hear from someone who says they didn't get a response, and eventually they realize we left a voicemail message or our response went to their spam folder. For most people our response will be in your inbox. We generally respond by email, but if we have many questions or a long response is required, we will call. You cannot submit photos by text, they must be sent by email and in a format we can easily access. If you want to send multiple emails with the photos as attachments, that's fine. Please do not send dozens of photos in a format where we have to open each file individually, we don't have the time. If your questions haven't been answered by reading this, feel free to call us at 905-822-6574. 
What We Buy
All sterling silver except coins and jewelry
Working mantle and wall clocks
Antique signs and advertising
All types of antique lighting-chandeliers, lamps, wall sconces, oil lamps, etc.
English bone china dinnerware sets
Select pieces of antique furniture in good condition
Industrial items
Store fixtures
Antique outdoor items-urns, benches, plant stands, cast iron pieces, etc.
Bronze sculptures
Antique items including:

featherweight sewing machines, scales, sap buckets, milk cans, copper, brass, tools, ashtray stands, manual typewriters, all kind of boxes and crates-jewelry, apple, butter, etc., snow shoes, wood skies, grandfather clocks, fire screens, fireplace poker sets, crocks, sewing cabinets, etc.

Any unusual antique items-the stranger the better
Architectural items: stained glass windows, fireplace mantles, iron grates, iron fencing, iron gates, corbels, shutters, hardware, mailboxes, etc.
Mirrors
Antique toys
Old wood boards – in large quantity only
Framed paintings and prints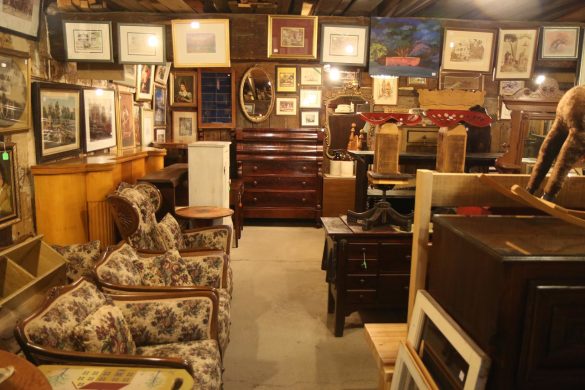 What We
Don't

Buy
Used furniture
Jewelry
Coins and stamps
Collector's plates
Porcelain dolls
Some antique furniture-formal dining sets aren't in demand these days
Used items – We often get offered items bought at stores like Homesense or Pier One Imports, we don't buy those type of items.